Robinvale Euston Tourist Town Drive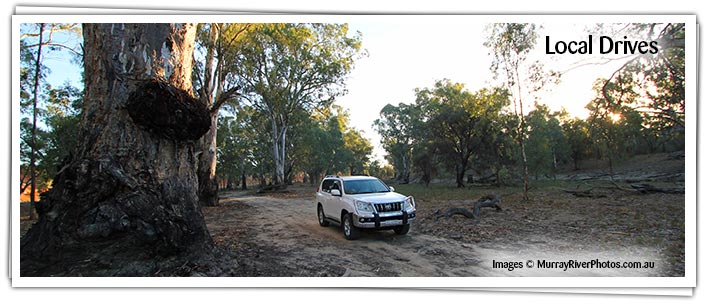 Take a drive around Robinvale and Euston to experience the diversity of our community, landscape and history. Starting in Robinvale near the Visitor Information Centre at Perrin Street, the shopping hub, make your way around this picturesque and interesting drive, along the Murray River, past our extensive vineyards and across to Euston.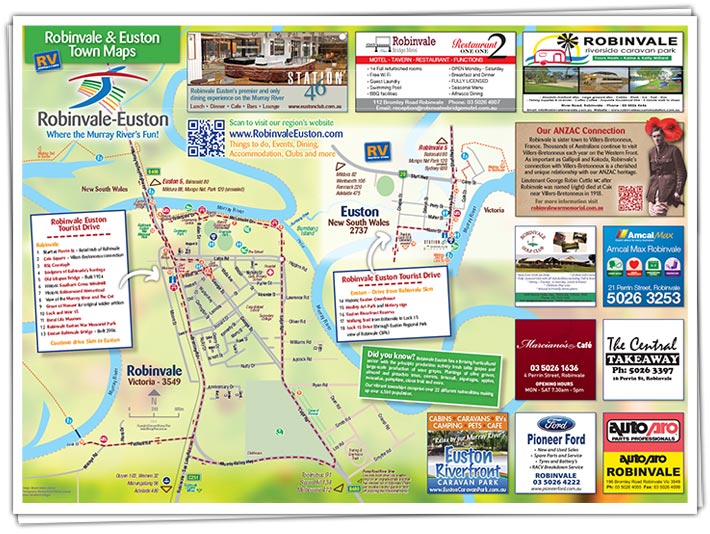 Robinvale
1 Start at Perrin St – Retail Hub of Robinvale
2 Caix Square – Villers Bretonneux Anzac connection
3 RSL Cenotaph
4 Sculpture of Robinvale's heritage
5 Old Liftspan Bridge – Built 1924
6 Historic Southern Cross Windmill
7 Historic Robinswood Homestead
8 View of the Murray River and The Cut
9 Grove of Honour for original soldier settlers (external website)
10 Lock and Weir 15
11 Rural Life Museum
12 Robinvale Euston War Memorial Park (external website)
13 Euston Robinvale Bridge – Built 2006
Continue drive 5km to Euston
Euston
14 Historic Euston Courthouse
15 Medley Art Park and History sign
16 Euston Riverfront Reserve
17 Walking Trail from Robinvale to Lock 15
18 Lock 15 Drive (through Euston Regional Park view of Robinvale Cliffs)
Discover More Robinvale
Take a scenic drive through the Robinvale region, you will be pleasantly surprised at what you will find! Plan your route using interactive technology including 360° images with Discover More.
Click on symbols to find information, photos and video clips. Get a full description for each point of interest, as well as handy tools such as Google mapping and photos of the past and present. All you will need to do is pack the car, your walking shoes, and a camera and you're ready to experience this beautiful part of the Murray.
To Discover More, there are other trails through Swan Hill Rural City Council for you to explore and discover.