The Cut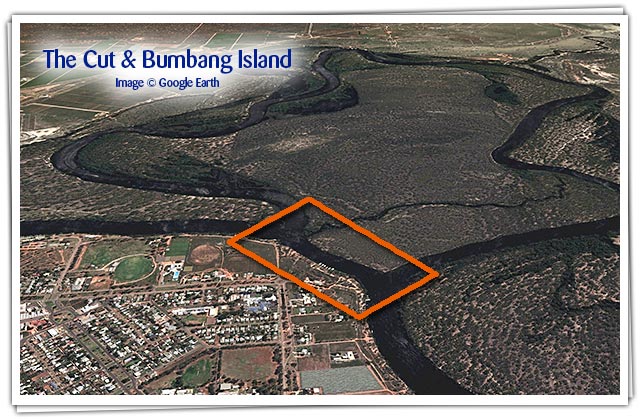 'The Cut' located in Victorian waters, forms Bumbang Island by linking two closely located points of the Murray River.
The Cut use to go dry regularly before the Lock and Weir 15, located downstream, was completed in 1936. (Construction of the Lock commenced in 1932 but was delayed due to floods).
Bert (Herbert) Cuttle ran sheep on Bumbang Island and one of his workers would drive across in a T-Model Ford when it was dry. Bert Cuttle bought a launch and two barges from the Lock clearing sale, which were used to put sheep on and off the Island.
It was only used a couple of times. During the 1939 flood, one barge broke away (or was interfered with – no one is quite sure) and it ended up on the NSW corner where you can still see it today amongst the reeds.
The Cut was also a good place for spearing Murray Crayfish at night with the use of a kerosene lantern, which would attract the Crayfish and make them easily identifiable.
Several swimmers have drowned at the Cut due to strong currents caused by a drop in water levels from approximately 1.2m at the exit of the Cut to 9m in the Murray River.
More of our interesting local history