Local Walks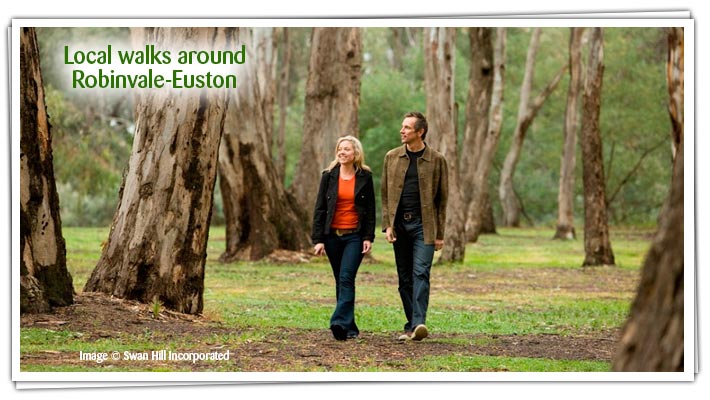 Euston Walking and Bike Trail
This leisurely and peaceful 2.5km path links Robinvale and Euston on each side of the Murray River and provides an alternative view of Euston Weir and Lock 15.
The sealed surface of the track makes the path easy for walkers, cyclists and joggers and is shaded for most of the distance. Billabongs along the way provide a natural wetland environment for frogs, which croak loudly even throughout the day including the endangered Southern Bell Frog.
A pergola has been constructed approximately half way along the path to offer a perfect vantage point for an upclose, wide view of the river with flocks of pelicans and black swans in evidence. You may even see the occasional kangaroo on your way.
Access for bikes, prams and wheelchairs is available by parking your vehicle under the bridge on the Euston side of the River and starting your walk from there. Alternately start from Robinvale by crossing over the bridge and take in the spectacle of the Murray from up high before walking down either stairs or ramp to the Euston side to begin the trail which ends in the township of Euston.
The Euston Lock and Weir 15 extension of the Euston Walking Trail is not sealed, but is still suitable for pedestrians, joggers and cyclists and starts below the Euston Club.
Robinvale River Walk
The Robinvale River Walk is a great way to enjoy a stroll along the beautiful Murray River front and learn more about significant points along the river. With information signs you can stop and read more about:
Its the perfect combination with the Euston Walking and Bike Trail as you stroll along Robinvale's River Walk and over the bridge to meet the Euston walk.