Bumbang Station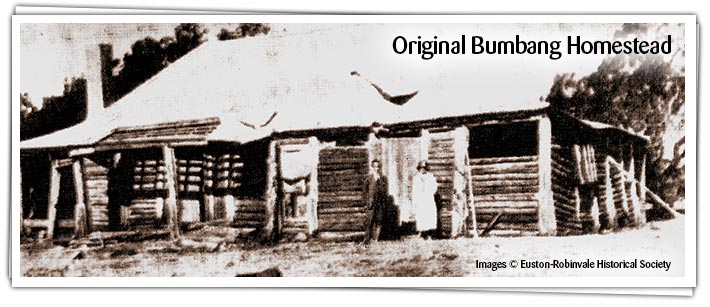 In 1847, John and Mary Grant, their three teenage sons and a daughter, occupied a run, with 15 miles frontage on the south side of the Murray River.
Applying for a pastoral lease in 1849, John Grant asked for 20 square miles of land in the area that the Aboriginals called 'Bumbang'.
At this location, the Grants build a pine log homestead and outbuildings and established an orchard and garden.
In 1852 they were able to supply fresh food to the first paddle steamers on the Murray.
John and Simon took over Bumbang from their father and the oldest son, Alexander. Bumbang Station passed through various hands until bought by A.T. Creswick about 1890.
Under Creswick's overseer, Henry Carrington, Bumbang Station prospered greatly and the homestead buildings were enlarged. It became a major stopping place for the Swan Hill to Wentworth coaches and also for the river boats.
Bumbang Homestead burned down in 1926.
More of our interesting local history