View Larger Map
Boundary Bend
Victoria – 45km
Boundary Bend boasts a gorgeous sweep of river as its view. An excellent boat launching ramp and access to lovely camping sites make this little township a pleasant stop with various amenities available to make your visit comfortable and extend your stay.
Let the kids have a run and stretch their legs at the new adventure playground in town.
The site of this paddle boat – themed play area is the old Boundary Bend Primary School and is clearly visible from the Highway.
Have a close-up look at the ute painted by local Boundary Bend school children with a 'Mallee' motif located at the playground. How many icons of the Mallee can you spot on the ute?
This pretty township was once home to Archie Conner, a legend in his day who died in 1980 aged 94. An entrepreneurial individual, Archie survived grief and setbacks to become arguably one of the best known professional fishermen in this District.
His descendants still populate the Boundary Bend region and gathered to commemorate his achievements at the unveiling of a bollard in his honour at Boundary Bend in August 2008.
The bollard is one in a series along a stretch of the Murray River to recognise significant 'River People'. Archie's bollard is located on the foreshore at Boundary Bend positioned to gaze over the River he knew and loved so well.
Two other bollards in this series are located on the foreshore in Robinvale. Others in the series can be viewed at sites along the river around Swan Hill.
Audio tour of Boundary Bend
Your browser does not support audio playback above download the file here: MP3, OGG, WAV
Audio tour of Boundary Bend from the Swan Hill Discovery Drive.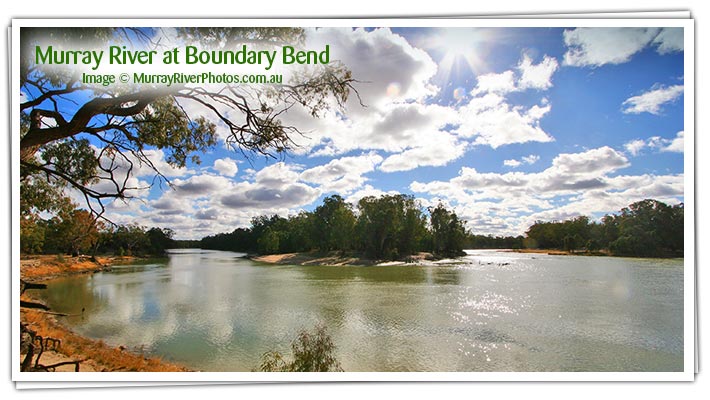 For more information on Boundary Bend visit Discover Murray River
Towns and parks south of Robinvale-Euston
Heading south of Robinvale-Euston you can explore our wonderful Murray Mallee region and National Parks. Some of these include: